The Ultimate Daily & Weekly Cleaning List
Maintaining a tidy home and staying on top of chores is impossible without a clear schedule. Unfortunately, our busy lives can easily complicate the situation and hinder our ability to stay organized when cleaning our homes. That's why we've prepared the perfect daily and weekly cleaning guide to help you keep your home spotlessly clean every day. 
Still, no matter how hard you try, dirt, dust, and grime can easily creep up on you if you lead a busy lifestyle. Luckily, the foremost house cleaning services in Inverness, IL, would be more than happy to take care of your chores for you! 
Contact Happy Maids today and forget about your cleaning worries! In the meantime, read on to discover some invaluable tips for keeping your home clean every day and every week. 
What chores need to be done daily?
The best way to ensure optimal levels of cleanliness in your home is to be consistent in your efforts. Keep reading to find out which chores in different areas in your home you should tackle on a daily basis. 
Bedroom
In order to keep your bedroom in tip-top shape, perform the following chores daily: 
Make your bed. Your bedroom will look much nicer if you make your bed every morning after you get up. 
Wash clothes: Do at least one load of laundry every day. 
Put away unnecessary items. To avoid clothes and trinkets piling up on your chairs and bedside table, make an effort to clear out clutter every day. 
Living room 
Keep your main living areas clean by taking care of these tasks every day: 
Organize & sort papers. Sort through your bills, magazines, and any similar items every day to minimize clutter. 
Clean up messes immediately. Don't let any spills and stains linger. 
Sweep the floors. Quickly sweep high traffic areas (not only in your living room) to prevent dirt build-up. 
Kitchen
Maintain a spotless kitchen with the following daily task list: 
Wash the dishes after each use. Keep bacteria at bay by washing your dishes regularly, preferably after every meal. 
Wipe down countertops. Do a quick wipe-down of your countertops and other surfaces to keep the germs in check. 
Take out the trash. In order to avoid unpleasant odors, make an effort to throw out the trash on a daily basis. 
Bathroom
Your bathroom will look impeccable every day if you: 
Clean the toilet. Pour some

eco-friendly toilet cleaner

into the bowl and use the brush to clean. Flush once you're done. 

Wipe down surfaces. Quickly wipe down the mirror, sink, and other surfaces to keep them sparkling clean. 
What chores should be done weekly? 
Which tasks should you do every week instead of every day? Here's a list of household chores you should do at least once a week: 
Dust all surfaces: you should dust every week to reduce the number of dust mites and other allergens. 
Wipe down all surfaces: clean tables, kitchen countertops, the outside of appliances with a damp clean cloth. 
Vacuum & mop: sweep or vacuum the floors in each room and remove cobwebs and dust bunnies.  
Do laundry: wash clothes, linens, and towels while you focus on other areas in your home. 
Clear out the fridge: throw away any spoiled food and leftovers and clean the interior of the fridge if you have the time. 
Clean the bathroom: clean the toilet, shower/tub, sink, and any other surfaces in your bathroom to keep harmful germs away. 
The finest experts for house cleaning services in Inverness, IL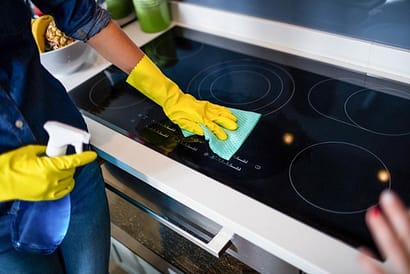 Inverness is one of the many areas we service in the Northwest suburbs of Chicago. No matter how often you do your household chores, the dirt, dust, and grime always come back. With everything else you have on your plate, struggling to keep a spotless home can use up the last bit of your time and energy, leaving you exhausted and overwhelmed. 
Let us help! At Happy Maids, we love helping our neighbors by matching them with peerless cleanliness experts who never fail to deliver cleaning services of the highest quality. With their help, your home will look pristine every day of the week and you'll even have the time to take a well-deserved break and go bird-watching at Baker's Lake. Contact us today!