Best Methods for Cleaning Kitchen Cabinets
Few places in your home are more exposed to grime and dirt than your kitchen cabinets. They are a breeding ground for bacteria because of all the spilling, splattering and greasing that food preparation inevitably entails. So, what is the best way to keep your kitchen cabinets clean? 
If you have to deal with all kinds of chores on a daily basis, including decluttering your living room and getting rid of carpet mold, you must feel quite overwhelmed, especially if your family won't help you clean. Not to worry! The leading house cleaning service in Barrington has got your back. Why do everything yourself when you can rely on seasoned experts to take care of the cleaning? 
Read on to find out how to clean your kitchen cabinets efficiently!    
How do you clean grease and grime off kitchen cabinets?
Nothing gets as grimy as kitchen cabinets do and they aren't the easiest area to clean, unfortunately. It's sometimes difficult to figure out which non-toxic products to use for the best results and avoid damaging the cabinets in the process. 
Luckily, we have some simple and natural solutions that can make your cabinets shine again: 
Warm water & dish soap: mix some warm water (2 cups) with dish soap (2 tablespoons), scrub the cabinets using a clean cloth, rinse with clean water and dry them off once you're done.  
Baking soda: use a damp cloth and some baking soda to scrub the cabinets clean. Wipe off the baking soda with a wet clean sponge and dry the cabinet off with a clean cloth.  
White vinegar: mix one cup of vinegar into the water/dish soap solution from the first step and repeat the same process to remove the stains. 
Borax: If the stains simply won't go away, try adding ½ cup of Borax to the mixture for a more aggressive approach. Srub, rinse and dry the cabinets afterward.  
How do you clean and shine wood cabinets?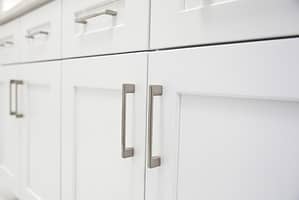 If you have wood cabinets in your kitchen, you want to be extra careful when cleaning them to avoid damage. Fortunately, most of the aforementioned methods are quite natural and gentle enough for cleaning wood cabinets. 
Vinegar is possibly the safest method you can use for your wood cabinets. Pour the same warm water, vinegar, and dish soap solution you would use for regular cabinets into a spray bottle and mist some onto drawers and cabinet doors. Let it sit for a couple of minutes and wipe it off with a clean soft cloth. You may have to put in some elbow grease to get rid of heavier grease stains. 
Once you've removed the stains, you may want to protect the cabinets and make them shine by applying a thin coat of vegetable or orange oil. Rub the oil with a soft cloth until the surfaces gleam!   
What to clean inside kitchen cabinets with
You can clean inside your kitchen cabinets with the same methods and ingredients you used for their exterior. Here's the easiest way to do it: 
Mix 2 parts water and 1 part dish soap (or laundry detergent) and pour it into a spray bottle. 

Spray the mixture inside the cabinet and wipe away with a clean sponge or cloth. 

Use vegetable oil parts baking soda to remove heavier grease stains and deep grime. 
The #1 house cleaning service in Barrington will make your home shine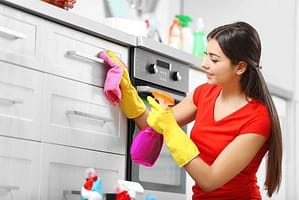 Barrington is one of the many areas we service in the Northwest suburbs of Chicago. Getting rid of the grime and grease on your kitchen cabinets is just one of the chores you have to think about. With all the housework you have to take care of all by yourself, visiting Lake Zurich with your family on the weekends is near impossible most of the time. 
There is a solution! Reach out to Happy Maids and forget about all the mess! Why waste time scrubbing kitchen cabinets when you can spend quality time with your loved ones instead. Contact us today and get your clean and healthy home in no time!