Efficient Cleaning Tips for Dog Owners
Sharing a home with a dog brings a whole lot of joy for both parties. Still, no matter how much you love your furry companion, you are bound to get frustrated with all the mess they leave behind, making it much harder to maintain a clean house on a regular basis.
Fortunately, the foremost maid service in Deer Park will be more than happy to help you with your cleaning worries. We have prepared a set of useful tips for keeping a dog-friendly home clean which will enable you to enjoy living with your pet even more. Read on!
How do you keep hardwood floors clean with dogs?
Dogs shed, that's just a fact of life. If you're struggling to keep your hardwood floors free from dog hair, we have some tips for you:
Keep your dog clean with regular brushing, bathing, and grooming.
React to accidents as soon as they happen using effective enzyme cleaners.
Clean the floors with a damp mop to attract hair and keep the floors clean.
Vacuum with a hardwood floor attachment or setting for the best results.
Reapply sealer if you notice hair snagging on certain parts of the floor.
How do you keep carpets clean with dogs?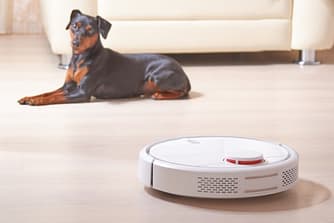 Maintaining clean carpets is hard enough as it is. With dogs in the house, it can be a whole different struggle. Fortunately, we've prepared some tips to help you have spotless carpet even if you live with a dog.
Keep paws clean
Naturally, your carpets will get dirty much faster if you don't keep your dog clean. Wipe your pet's paws after each walk to prevent mud from spreading throughout your home and ending up on your carpets.
Use appropriate cleaning products
Clean your carpets with effective non-toxic products that are safe for you and your canine friend. Opt for enzymatic cleaners when dealing with accidents to get the best results.
Eliminate odors with baking soda
Baking soda is great for deodorizing your carpet and removing lighter stains. Sprinkle a generous amount on your carpet and use your vacuum to pick it up after a couple of hours.
Hire a carpet cleaning service
Cleaning and disinfecting a carpet properly requires quite a bit of elbow grease. If you're already too tired from all other chores you have on your plate, hiring professionals to deal with your carpets maybe your best option.
How do you keep your house clean with a dog and a baby?
Living with small kids and pets in the house leaves very little time for cleaning. With your dog coming back from a walk with muddy paws and your baby spilling chocolate milk at the same time, maintaining a clean home may seem outright impossible. Here's what you can do to make it easier:
Vacuum as often as you can. Try vacuuming twice a week. We know it's hard, but vacuuming for just a minute or two will help keep dog hair in check.
Get a Roomba. A robot vacuum can be a lifesaver if you have carpet, vinyl, or hardwood floors. You can set it to work two or three times a week while you focus on other chores.
Seek help from your partner. You can't do everything yourself! Talk to your partner and try delegating some of the cleaning tasks to them.
Hire professional cleaners. Cleaning is hard enough even without pets and kids in the house. Instead of wasting your energy, book a maid service and forget about the mess.
Hire the finest maid service Deer Park has to offer
Deer Park is one of the many areas we service in the Northwest suburbs of Chicago. Maintaining a pristine home with pets and children can be incredibly exhausting. But why stress about cleaning when you can spend quality time with your family instead?
Reach out to Happy Maids today and have your home cleaned to perfection by experienced cleaning pros who always bring their A-game. With their help, you'll even have the time to take a break and unwind at Belmont Lake State Park. Get in touch with us today!