How Do I Motivate My Family to Help with Housework?
Having to keep the entire house clean all by yourself can be exhausting, especially if you're a working mom. If your partner and children won't do much around the house, you need a tried-and-true method to motivate your family to help you with chores. 
We've prepared a list of tips and tricks you can use to get your family to share your workload and enable you to forget about cleaning for once and take a well-deserved break. 
If the chores take too much of your time no matter how much help you get, reach out to the finest professional house cleaning in Barrington, IL and have seasoned cleaners make your kitchen cabinets shine and declutter your living room while you rest for a bit! 
How do I get my family to keep my house clean?
Once you allow your family to get used to you taking care of all chores, getting them on board with housework can be a daunting task. Luckily, there are some techniques you can use to try and get some help around the house without fighting with your family members. 
Here's how you can motivate your partner and kids to help you: 
Don't nag them: criticizing and nagging your family members constantly is more likely to make them even less willing to help you. And when they do get down to cleaning, try not to be nitpicky about the way they do it. 
Have a calm discussion: sit down with your partner and try to explain how much all the housework drains your energy. If you go about it without pressuring or guilt-tripping them, they will be more likely to understand and be motivated to help. 
Organize a family meeting: it might be a good idea to schedule a meeting with your family to see if you can come to an agreement about sharing the workload in the best way possible. 
Motivate kids with games: if you have young children, you can try stimulating them by playing some music or turning the cleaning activity into a game or competition. You can also reward your kids for the successfully finished chores. 
How do I help my child with housework?
Keeping the house tidy and clean with young kids can be a nightmare. However, if you make an effort to include your kids in the cleaning activities early on, you're more likely to avoid having to deal with unhelpful teenagers later on. Read on to discover the secrets of cleaning with your kids successfully. 
Start as early as possible 
Your toddler is probably much more eager to help you than a teenager would be. If you find tasks that are appropriate for their age and make them feel like they're attributing to the household in a meaningful way, they'll be happy to pitch in. Just make sure to start while they're young! 
Don't expect too much
A toddler can't do much to help you around the house and you shouldn't expect them to. Having them pick up their toys and put them in the toy box is more than enough for a start. Find activities that are easy, give them some kid-safe cleaning products and show them how proud you are of their efforts. 
Don't give vague instructions 
If you tell your kid to clean their room, they simply won't know where to begin. The more specific you are in your instructions, the more your child will understand and help you. Make sure to give your kid one simple and direct instruction at a time to avoid overwhelming them. 
How do I motivate my child to clean?
Your kid just won't help you clean no matter how much you try to motivate them? We understand your struggle. Some kids are simply stubborn and don't like tidying up and getting them to help you clean up may take a lot of time and effort. That doesn't mean you should give up! Try the following tips: 
Leave their mess where it is no matter how much it annoys you. Eventually, they'll get tired of looking at it and clean it up themselves. 
Don't clean up their room. The sooner you stop tidying up your kid's bedroom, the sooner they'll understand that you won't be always there to make their bed. 
Take a break from chores. While you shouldn't let the house become a total mess, neglecting your household tasks for a couple of days can be an effective method to motivate your family to clean. 
Reward them for cleaning. If nothing else seems to work, giving your child a bigger allowance or extending their bedtime could be the way to go. 
Hire the foremost house cleaning in Barrington, IL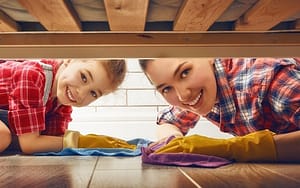 Barrington is one of the many areas we service in the Northwest suburbs of Chicago. Here at Happy Maids, we strive to not only match our customers with an unparalleled cleaning experience, but also to provide them with all the information they need to always have a clean and happy home. 
From helping you to get your family on board with house cleaning to giving you great advice for treating carpet mold, we have all sorts of useful tips and tricks we want to share with you. And if you need a break from housework to visit Grassy Lake, we'll be more than happy to clean your home to perfection while you relax. 
Reach out to us today!