How to Find the Best House Cleaning Service for You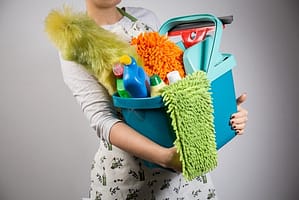 Can't stand the mess in your home a minute longer? Do you think it's time to get some professional help with all that cleaning? If so, you must be wondering how to choose a quality house cleaning service that will be just right for you.
When you begin interviewing companies for house cleaning in the Barrington, IL area you need to know the right questions to ask. Given today's reality, the first question should be about their level of COVID training and education.
If you're worried about inviting a maid service into your home during COVID, we suggest you just choose the right one. At Happy Maids, for example, we have gone above and beyond with our COVID education and training. The Barrington area is one of the many areas we service with our COVID-busting techniques here in the Northwest suburbs of Chicago.
Once you've asked all the right questions, you need to know how to evaluate the answers you get so you can choose the house cleaning company that's best for you and your home. Ready for some ideas?
How do I choose a house cleaning service?
Think about what you want. Most people want to walk into their home and be impressed! They want a maid company that will consistently 'wow' them, going above and beyond their expectations. Finding that house cleaning service can seem like no easy feat, but just keep in mind that your needs are unique, and the more specific you can be about them, the better.
So, take your specific cleaning needs into consideration. Make a list of questions to ask to find out whether the service checks all your boxes. Here are some general suggestions to get you started.
In order to make sure that only reliable and trustworthy cleaners will be tasked with cleaning your home, you need to check if the house cleaning service employs a strict screening process. Most cleaning services conduct various tests and in-person interviews, as well as comprehensive reference and background checks to ensure their cleaners have pristine records and an appropriate set of skills to make your house sparkling clean.
Do you promise absolute satisfaction?
Most respectable house cleaning services will make sure their customers are completely happy with the level of quality they provide. That's why they offer a 100% satisfaction guarantee. This means that they will send someone to re-clean any missed spots shortly after you contact them. Some house cleaning companies will even give you a full refund if you're still not happy with the state of your home after the re-clean. Don't go with anything less than a 100% guarantee.
What do the maids clean when they do a regular cleaning?
This just might be the most important point of all. Before you hire, make sure you know what your house cleaners will do in your house. Most basic cleaning packages contain some standard cleaning tasks such as dusting, vacuuming, and mopping. If you need help washing your windows or cleaning your carpets, you'll probably need to pay more to include them, or perhaps you'll need to book a deep cleaning service.
Do you use green cleaning products?
If you strive to be environmentally conscious and are careful about your family's health, you'll be happy to hear that many professional cleaning services use eco-friendly cleaning products.. The ISSA is a great resource for checking out product safety. Products approved by the ISSA not only produce excellent results and help protect the environment, but they are also good for your family's wellbeing since they don't contain toxic ingredients and allergens.
Do the maids come with cleaning products or will they use mine?
While most professional house cleaners bring their own cleaning supplies and equipment, some of them will require you to provide your own. That can be a big surprise if you didn't know beforehand. To avoid an unpleasant situation, make sure to ask the cleaners before you decide to hire them whether or not you need to provide any cleaning supplies.
Outstanding house cleaning Barrington, IL homeowners trust
Who wouldn't love to have a pristine house? Our everyday life has gotten so complicated and stressful, it's a pleasure to come home and relax in a fresh and healthy environment.
At Happy Maids, we make this happen for you! Let the seasoned cleaning superstars at Happy Maids delight you with their professionalism and determination to get rid of every speck of dust in your home. While they're working their magic, you'll be able to relax and do the things you enjoy.
Contact us and let us WOW you!