House Cleaning: What's the Ideal Frequency?
Consistency is key when it comes to keeping your house clean. Yet, all of your professional and social obligations can make it quite difficult to stay on top of chores every single week. But, how often should you clean your home if you want to make sure it's consistently fresh and clean? 
The ideal frequency of home cleaning will mostly depend on the specific area in your home since some chores need to be performed daily while others don't require the same amount of time and effort. Either way, household chores can take up a lot of your free time if you choose to do all of them yourself. 
That is why hiring professional cleaning services in Inverness, IL is such a great idea. With your household tasks in the hands of seasoned cleaning pros, you'll finally get to let your hair down and enjoy your free time exactly how you want to. 
How often should I do household chores?
What's the perfect cleaning schedule to ensure your home always looks its best? Well, the most effective way to achieve the ultimate levels of cleanliness is to create a weekly, monthly, and yearly schedule for your household chores. 
Clean these sections at least once a week: 
Do the laundry. If you live alone, washing your clothes once a week will probably do the trick. 
Dust all surfaces. Dusting is a necessary chore if you want to reduce the number of dust mites and alleviate allergy symptoms. 
Vacuum carpets and floors. Similarly, vacuum your carpets and floors at least once a week to avoid dust bunnies and cobwebs. 
Clean the toilet bowl. Disinfect the toilets twice a week to eliminate harmful bacteria and protect your health. 
Clean the sinks. Wipe down the sinks every week, and even more often than that if you've handled raw meat. 
Do the following chores once a month: 
Clean the tub/shower: you should try washing your shower or bathtub every two to three weeks to avoid mildew build-up, but once a month will probably be sufficient.  
Clean the windows: Give your windows a new shine by cleaning them with suitable

eco-friendly agents

once a month. 
Perform these tasks every 6 months or once a year: 
Steam clean your carpets: your carpets need some attention too! The best way to do it is to have them professionally steam cleaned at least once a year. 
Clean your upholstery: to keep your furniture in great shape, you should clean it every 6 to twelve months, whether you choose to do it yourself or leave it to the pros.   
How long should I spend cleaning my house?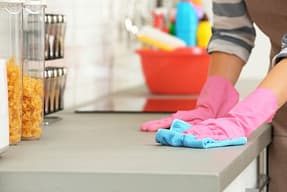 Maintaining a clean home can be overwhelming, and that's an understatement. No matter how much time you spend scrubbing and dusting, the work just always seems to pile up. Fortunately, there is a perfect solution for your cleaning troubles and it's easier than you think!
A typical human being can stay focused on a single task for around 20 minutes at a time without losing concentration. The same goes for the annoying chores! If you set aside 20 minutes every day to spend cleaning around the house, you won't have to worry about the mess getting out of control. Similarly, if you do have to tackle a more time-consuming chore, doing it for 20 minutes and than taking a 5-minute break will give you the best cleaning results.  
Exceptional cleaning services Inverness, IL adores
Inverness is one of the many areas we service in the Northwest suburbs of Chicago. Wouldn't you like to spend the weekend enjoying nature at Deer Grove with your loved ones instead of cleaning the house? We understand your struggle! While the 20-minute rule is surely effective, most people simply don't feel like cleaning every single day, and that's more than okay. 
That's why they rely on experienced house cleaners to help them stay on top of housework without breaking a sweat. Contact Happy Maids today and forget about wasting your weekends on chores. Get in touch with us today and enjoy your pristine home!