Keep Your Pet-Friendly Home Spotless with These Great Tips
Living with pets is a wonderful experience that comes with its own set of perks, but also challenges. To start with, dealing with pet hair and dander can make maintaining a clean pet-friendly home a nightmare.
From keeping your carpets clean with dogs to trying to stop your cat from scratching the furniture, you probably have a lot on your plate as a pet owner. But worry not! The finest experts for house cleaning Deer Park, IL has to offer will be more than happy to come to your aid and help you maintain a spotless home even with your furry friend making a new mess every day.
How do you keep your house clean with pets?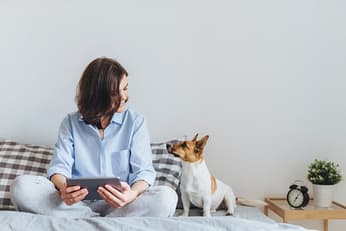 If you are a pet owner in need of a helping hand, you've come to the right place. No amount of pet hair, mud, and dirt your pet can leave behind will stand a chance if you use the following tips:
Keep your pets clean. Grooming your dog or cat regularly is a must if you want to maintain a clean home. Wash your pet once or twice a month with an eco-friendly pet shampoo and brush their fur as often as you can.
Use a high-quality vacuum. Each pet owner knows that pet hair can end up anywhere, and we mean anywhere. The only way to keep it in check is to have an effective vacuum cleaner with strong suction and a quality filter and use it regularly, even daily if your pet is a shedder.
Wipe your pets at the door. Even if it's dry outside and you don't think that your dog is too dirty, it's better to wipe their paws after each walk to minimize the amount of dirt that ends up in your home.
Get a lint-roller. This handy tool is a must for every pet owner. It helps keep the hairs off of your clothes and furniture and allows you to do a quick clean up if you're expecting guests or need to get your coat fur-free before you head out.
How do I make my house smell good with pets?
Whether you live with a cat or a dog, you're probably looking for a way to eliminate bad odors from your home. We've got your back! Use the following tips and live in a fresh-smelling home with your pets:
Clean your pet's stuff regularly. Wash toys, collars, clothes and other items once a week to make sure they don't get smelly.
Purchase an air purifier. An easy way to remove bad smells from your home is to get an air purifier. What's more, an air purifier will also eliminate airborne pet hair and dander.
Deodorize your home with vinegar. Use a white vinegar and laundry soap mixture to wash bed coverings, pillowcases, curtains, and carpets.
Use baking soda to eliminate odors. You can keep bad smells in check by keeping a small bowl filled with baking soda near your pet's stuff.
Keep the litter box clean. If you live with a cat, make sure to empty the litter box every day if you want to keep your home fresh.
Leave your chores to the #1 house cleaning in Deer Park, IL
Deer Park is one of the many areas we service in the Northwest suburbs of Chicago. Pet owners surely don't have it easy. With all the other chores they need to take care of, pet dander, hair, and slobber make cleaning the house a truly daunting task. That is why hiring professional home cleaning services is the perfect solution for anyone living with a furry friend.
With assistance from the seasoned experts at Happy Maids, your home will be nice and fresh even if you live with multiple pets. Let them tackle the cleaning expertly and efficiently while you take your dog to Cuba Marsh and have fun. Reach out to us today!