Top 3 COVID-Busting Advantages of Hiring Maid Service
Can a maid service really save you from illness, including COVID? We've talked quite a bit about the many ways you can benefit from maid service, but we haven't really talked about the physical and emotional health benefits. Hiring Happy Maids to clean your home regularly can free up your time, help stop the spread of germs, and protect your family from harsh chemicals. It can even help you contain COVID.
Less Stress
We all know that stress is the underlying cause of many illnesses, and in this "COVID era" there's plenty of stress to go around. So, an important way you can help keep your family safe is by reducing your own stress. Hiring a COVID-trained maid service will do just that. Our maids are highly trained in the latest COVID-busting techniques and they make sure they're extra careful with everything they do. Can't you just feel the pleasure you'll have when you walk into your spic-n-span home after we've been there? Talk about a stress reducer!
Stop the Spread of COVID Germs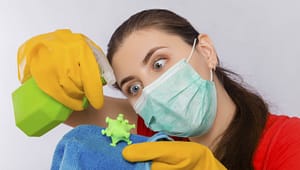 We've all gotten pretty hip to this germ thing. Germs are lurking everywhere, and with COVID it's gotten pretty darned serious. Where once we didn't think twice about flipping a light switch or turning a doorknob, now we know we should. Did you know that COVID is contagious two weeks before you even know you're sick? Prioritize your health by calling us. Let our highly trained maids sanitize your home so you and your family have a better chance of staying healthy.
Green Cleaners, No Harsh Chemicals
If you already use green cleaners, you know how effective they are. If you don't, perhaps it's time you consider what those chemicals are doing to your health.  The cleaning products we use are all-natural and safe for you, your home, and your pets. We bring all of our own cleaning products with us, eliminating the need for you to keep or use potentially dangerous chemicals in your home.
Keep you and your family safe and healthy by calling Happy Maids for professional maid service.