Great Tips for a Germ-Free Home
Disinfecting your home properly is a must if you want to keep your family healthy and safe. This is especially true during the flu season when eliminating dangerous germs and bacteria is essential for keeping the illness at bay.
Luckily, as the leading Arlington Heights house cleaning services, we have prepared a comprehensive guide for maintaining a virus-free home. What's more, we can also give you some tips on deodorizing a room, cleaning up before the guests come, and keeping the house clean during a party. Read on!
How do you disinfect your house from viruses?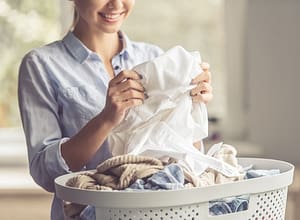 If someone in your family has been sick with the flu recently, you probably want to make sure that the virus is eradicated from your home completely. Use the following tips:
Clean the points of contact. These include light switches, doorknobs, remotes, phones, laptops, etc. Disinfect them with an effective cleaning agent.
Open the windows. Letting some fresh air into your home after being sick is a must. This way, you'll let the stale air out along with the germs.
Disinfect the bathroom. You should disinfect your bathroom regularly, flu or no flu. Wash towels, disinfect all surfaces, and sook toothbrushes in hydrogen peroxide.
Disinfect the kitchen. The same goes for the kitchen – make sure to disinfect all food preparation areas on a daily basis to keep dangerous bacteria in check.
Wash the linens. Make sure to strip your bed and wash all beddings with hot water after a sickness to eradicate bacteria.
Wash the sick clothes. Similarly, wash the clothes you wore while you were sick. If you can't use hot water, you can add some lavender or tea tree oil to the wash (10 drops).
How long do flu germs live on bedding?
Considering that you probably spend the majority of your sick days in bed, your linens are bound to become a breeding ground for bacteria. But how long can the flu virus survive on your bedding?
The answer to this question will mainly depend on the type of virus. Some cold viruses can survive indoors for longer than seven days but are rarely infectious for more than 24 hours. Similarly, most flu viruses will survive on hard surfaces, such as plastic or stainless steel, for around 24 hours and for no longer than 15 minutes on tissues and other porous surfaces.
Either way, you should wash your bedding in hot water after a sickness, and at least once a week, in general, to prevent dangerous germs from accumulating.
How often should you disinfect your house?
Some surfaces in your home will require more attention to remain germ-free than others. In general, your kitchen and the bathroom are where the majority of the bacteria will be.
Disinfect the following surfaces daily:
The toilet. Clean inside the toilet with an appropriate toilet cleaner and don't forget to disinfect the seat, too.
The sinks. Disinfect the sinks in your bathroom and kitchen every day with vinegar, baking soda, and hot water.
Kitchen counters. Wipe down all kitchen counters with an effective all-purpose cleaner and dry off the area with a lint-free cloth.
You should also wash your bathroom towels at two or three times a week to prevent the bacteria from spreading. Also, don't forget to disinfect your sponges regularly for the same reasons.
Hire the finest Arlington Heights house cleaning services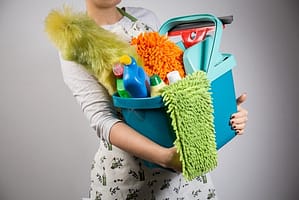 While you are sure to do a perfectly good job when disinfecting your home if you use these tips, you won't always have the time needed to keep your home germ-free. This is where we come into the picture!
With the help from the expert cleaners that Happy Maids can match you with, you'll have a clean and healthy home without wasting time and effort. What's more, you'll even have enough time to visit the Ned Brown Forest Preserve with your family. Give us a call and get your pristine home today!