House Cleaning Services: Why You Should Hire
Tired of weekends spent cleaning? If this sounds like you, hiring professional house cleaning services to take your cleaning worries away might be exactly what you need.
If you're wondering why you should hire house cleaning services, keep reading to discover the multitude of benefits professional cleaning brings. What's more, you can experience these perks first hand if you hire the finest maid services in Lake Barrington to take care of your household chores.
What do house cleaners do?
If you've never hired cleaning services before, you must be wondering what professional maids clean when they enter your home. While you won't find a one-size-fits-all answer, most companies will share some basic tasks in their standard and deep cleaning services.
Here's what a standard home cleaning checklist might look like:
Vacuuming

Dusting

Making beds

Wiping counters and other surfaces

Mopping
In addition, some cleaners will also perform tasks such as ironing, changing sheets or washing dishes, but what you can expect from your maid will vary from one company to another, so you should check first if your desired chores are included in their service.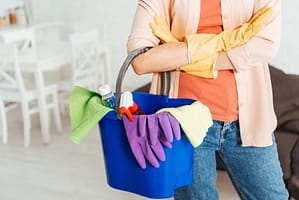 If you need a more comprehensive clean, you need to hire deep/spring cleaning services many companies offer. They usually include meticulous cleaning tasks such as scrubbing the inside of your oven or other appliances, washing the blinds and giving extra attention to areas which are often neglected. You should give your home a deep cleaning treatment every 6 or 12 months.
What are the benefits of hiring a cleaning service?
Hiring professional house cleaning services can make your life easier in many respects. Read on to discover some of the perks you get when you let the pros do your cleaning.  
Get your time back
First and foremost, hiring someone to do the cleaning for you allows you to spend your time exactly the way you want to. Sit back and relax or visit Grassy Lake with your family while your expert maids clean your home to perfection.
Save money
Sure, booking professional cleaning services is a luxury for many. However, when you consider the amount of time they provide you with, maid services can actually be a smart investment.
Live in a healthy, happy home
While money and time are important, your family's health comes first. Since professional cleaners use appropriate cleaning supplies and green cleaning agents, you can rest assured that your house cleaning services will successfully get rid of dangerous pathogens, bacteria, and allergens in your home.  
Is it customary to tip house cleaners?
Most house cleaning companies don't require tips. However, many people prefer to tip their cleaners to show appreciation or thank them for an especially nasty job.
While it's not necessary to tip, your cleaner will surely be thankful if you do. But how much and when should you tip? Here are some guidelines:
When? Well, this is entirely your choice. You can show appreciation to your cleaner after each cleaning or on a monthly basis, or reward them during the holiday season.

How much? Most clients like to give their cleaners 10-20% of the service costs, but it's never a bad idea to give more.  

Should you pay in cash? While cash is the standard option, you can show gratitude to your cleaners by giving them a present or a gift card.
Hire superb maid services in Lake Barrington
Lake Barrington is one of the many areas we service in the Northwest suburbs of Chicago. If you yearn for more time to focus on the things that matter most, hiring house cleaning services is exactly what you need. Luckily, you can count on the leading house cleaning company in Lake Barrington to deliver services of the highest quality.
Whether you need someone to render superb deep cleaning or tell you the fastest way to clean your home, Happy Maids is more than happy to provide you with the services you deserve and all the information you might need. Call us today!