How to Clean up Your House for Guests in No Time
Keeping a house clean is quite a challenge if you do everything on your own, especially if you are a busy professional or have toddlers or pets. On top of all that, you may have to deal with unexpected visits and learn how to clean up efficiently before the guests arrive
Fortunately, you've got house cleaning in Arlington Heights, Illinois to fall back on. Happy Maids can either do the job for you or simply share with you invaluable hacks on disinfecting your home, deodorizing a room or keeping the house clean during a party. Welcome your guests to a crisp clean home!
How do I get my house ready for guests?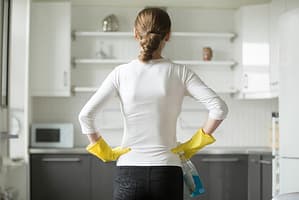 Whether you are expecting guests who'll only stay for the evening or are coming for a longer visit, you sure want them to enjoy their stay in your immaculate home. Here are some tips to make you proud of your spotlessly clean house:
Do a quick general clean-up. This includes vacuum cleaning and making the rooms your guests will be using clutter-free. Also, empty trash cans and dust the main surfaces.
Tidy your hallway. Your hallway is the first room your guests will see. Make sure the floor is pristine and there's enough room for your guests' coats.
Make your home smell good. Open the windows to let fresh air in, remove all potential sources of unpleasant odors, and deodorize using scented candles or cinnamon sticks.
Pay attention to details. Guests notice details, such as beautiful flower arrangements, or original sofa covers. Get some of these if you want to cozy up your home for guests.
Don't forget the bathroom. Carefully disinfect all surfaces in your bathroom, particularly the toilet and the sink, making sure they're shiny and bacteria-free.
Stock up. If it is an extended visit, you'll need extra pillows, blankets, and linens. Also, guests might need to borrow your toiletries and towels, so prepare extra quantities.
How to clean quickly for unexpected guests?
In case you've just received a last-minute call from friends saying they'll drop by shortly, follow these simple steps:
Don't panic. Your home doesn't have to be shipshape all the time. After all, cleaning obsessively certainly isn't healthy, even if you have a lot of free time.
Stash things quickly. Toss the trash and move any clutter where nobody will see it. Close the doors of all the rooms your visitors won't be entering.
Wipe the surfaces. This goes for the kitchen counters, mirrors, the dining room table, and coffee or side tables. It's a couple of minutes' job that brings huge improvement.
Put out fresh towels. If you don't have time to scrub your bathroom and kitchen, just bring out clean towels. This little trick will make both rooms appear much cleaner!
What to clean before guests arrive?
If you maintain an optimal level of cleanliness by regular cleanings, expecting guests won't be a stressful event. However, it might be a good idea to refresh certain areas immediately before they arrive.
For this purpose, we recommend ventilating the whole house, disinfecting the toilet and wiping down furniture surfaces. Of course, if you have young children or pets, remove the mess they might have created before the doorbell rings.
Experience the finest house cleaning Arlington Heights, Illinois has to offer
We are confident that our cleaning tips and tricks will be useful to you, but we also know that sometimes you just can't find the time to clean the house on a regular basis. The great news is that you don't have to!
Instead, have fun with your family in Metropolis Performing Arts Centre while our experienced cleaners clean your home so thoroughly that both you and your guests will enjoy every minute spent in it. Give us a call!